It's Day 5 of the Plenty To Be Thankful For Blog Challenge & Swap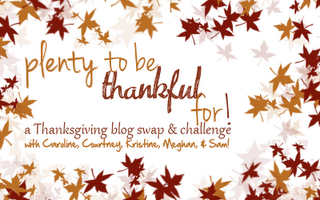 iPhone
I honestly don't know how I lived without my iPhone. I can check my email, Twitter, blogs, weather, Instagram (favorite app), etc. I'm sure a device like this would have been gawked at like something from an alien planet 50 years ago.
Internet
The internet has opened a whole new world of information and connections. You can stay in touch with loved ones via Facebook, blogs and Twitter use Google to find out an answer to just about anything and shop in your PJ's.
Travel
Between planes, trains and automobiles, it's much easier to get from A to B, which ranks high on my list since I love to travel. Although when I was a kid, I thought we might have flying cars Jetsons style at this point.