It's Day 2 of the Plenty To Be Thankful For Blog Challenge & Swap!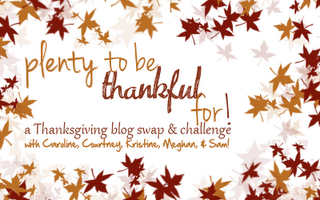 Today's topic is YouTube (and other internet fun)!
SafetySuit - Let Go
The best thing about YouTube is being able to find any song or music video at any time. It reminds me of what MTV used to be when I was a kid. With that said, I can watch SafetySuit's new video for the song "Let Go" whenever I feel like it. For that, I am very THANKful!
Sophia Grace & Rosie on Ellen
The next best thing about YouTube is viral videos. There are so many that guarantee a laugh even when you're in the worst mood. Sophia Grace and Rosie stole my heart when I saw them on Ellen.
Beauty Gurus
Another great thing about YouTube is the endless amounts of reviews and tutorials to learn to do your hair like this or your makeup like that. One of my favorite girls on YouTube is Michele1218. She's classy and knows her stuff. I trust her reviews and love her style.
Pinterest
As far as other internet fun goes, I have to say that I've been very THANKful for
Pinterest
. The website has a ton of inspiration and lots of fun. It's like getting a new virtual magazine every time you log on.