It's Day 4 of the Plenty To Be Thankful For Blog Challenge & Swap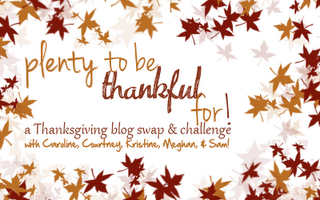 Today's topic is the Blogoverse:
The blogoverse is something I'm very THANKful for. I never imagined that so many wonderful women, most of whom I've never met in real life could be such a big part of my life. I'm
sincere
when I say that this is an amazing community and I'm lucky to have made some real friendships because of it.
Besides all the great people are the wonderful ideas and inspiration. I've cooked meals based on your recommendations, made crafts from some of the pretty things I've seen you create and been motivated to do many things like put together nice outfits, try new things, workout (need to get back to that) and decorate. The list goes on and on.
I try not to get too negative on the blog and keep things pretty upbeat, because I've always said this is my happy place. With that said, my life is
far
from perfect, but I know that the blogoverse will always be here to bring a little sun on a rainy day. For that, I'm thankful, grateful and honored to be part of it.
I'll leave you with this text from by blog friend
Gwen
:
It really made me giggle. Her daughter is the cutest and the fact that she knows who I am cracks me up!