It's Day 7 of the Plenty To Be Thankful For Blog Challenge & Swap.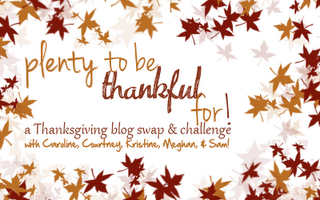 Today's topic is our favorite Thanksgiving Traditions.
Thanksgiving has always been a favorite holiday of mine because it's all about family getting together and sharing the love. It's isn't about
presents
and more about
presence
. With as fast paced as life can be, it's nice to spend this special holiday together around the table talking about life and catching up with one another.
For as long as I can remember, we've gone to my aunt and uncle's house where the entire family is gathered. The table has changed throughout the years. I remember when my grandparents were still alive and led us in grace before enjoying our delicious feast. Back in those days, I still sat at the kids table with my cousins.
Thanksgiving table - 2008, 2009, 2010
Now, we're all grown up, my grandparents have passed on and many of my older cousins have kids of their own. My uncle is now the one that says a special prayer before we eat. I also cannot remember a Thanksgiving where less than 15 people have been at the table and wouldn't have it any other way. It's also important to me that Geof is a part of everything and my family loves him like one of their own.
My aunt is also pretty amazing. She prepares the meal every year for the entire family and manages to get everything on the table hot and fresh. She's one of the special people that will always make room for one more and ensure that no one leaves her home hungry.
I consider myself pretty lucky to have a great family to go "home" to every Thanksgiving. I wish and hope that you all have a
Happy Thanksgiving
and that you're able to spend it with all the loved ones in your life.