It's Day 6 of the Plenty To Be Thankful For Blog Challenge & Swap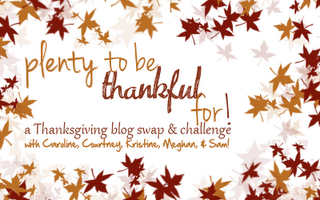 Today's topic is our favorite Thanksgiving recipe.
My aunt makes one of the best sides with our Thanksgiving dinner every year. It's something I've never had up until she made it for the first time a few years ago and it's her
Baked Pineapple Casserole
.
It's sweet with a little bit of savory (from the cheese) and a nice little addition to the typical Thanksgiving plate with some turkey, stuffing and mashed potatoes.
Here's the recipe:
Ingredients
1 (28-ounce) can crushed pineapple, undrained
1 1/4 cups granulated sugar
2 1/2 cups Ritz cracker crumbs
1/2 cup (1 stick) butter, melted
2 cups (8 ounces) grated cheddar cheese (plus 1/4 cup for topping)
Directions
1. Preheat the oven to 350 degrees F.
2. Pour the crushed pineapple (juice and all) into a small saucepan, and warm it over low heat. Add sugar. Heat until the sugar is dissolved, and then remove from the heat.
3. In a casserole or baking dish, layer the pineapple mixture, cracker crumbs, butter and cheese. Repeat until you have three to four layers. Sprinkle the remaining 1/4 cup cheese on top of the casserole.
4. Bake uncovered for about 20 to 25 minutes, until bubbly and golden brown.
Enjoy!