I hope everyone had a wonderful Thanksgiving holiday! Mine was great. I got to spend time with Geof, my family and even did some Christmas shopping.
Wednesday, Geof and I went out on a date night to see
Breaking Dawn
and then went to dinner at a newish Mexican place called Dos Gringos. It was perfection!
Ready for date night!
Movie + Mexican = Perfection
Thanksgiving was spent at my aunt & uncle's with the family and Friday we did some Black Friday shopping in Delaware. We scored some great deals! The rest of the weekend consisted of skating, relaxing, more shopping and a little work.
Thanksgiving at my aunt & uncle's
To keep with the theme of the Plenty To Be THANKful For Challenge, here is Day 9: I'm THANKful For Thanksgiving! (Post a picture of your table… if you have time!)
3 large tables for Thanksgiving this year
Day 10 I'm THANKful for Black Friday and Leftovers!
Doing Black Friday shopping in Delaware was definitely something to be THANKful for since we not only got some things on sale, we didn't have to pay sales tax!
Last but not least is the Plenty To Be THANKful For Blog Swap Reveal!
Look how pretty she wrapped everything!
Love all my new swap goodies!
I was partnered with Stephanie from
Life's Lyrics
and to say she spoiled me would be an understatement. She sensed my love for nail polish right away and even got me a shade that was on my Christmas wish list (Rainbow Connection from OPI). She also sent me some other beauty goodies and a gorgeous Christmas ornament along with a gift card for Starbucks!
We connected right away and it turns out, we have a ton in common from our favorite color to our taste in music. That's why I love swaps, because it's always nice to meet other great bloggers. Please pay her blog a visit. She's wonderful!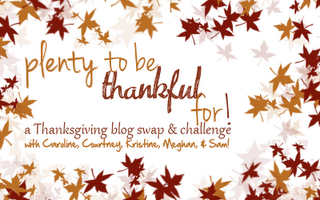 Thank you to all the ladies that took the time to organize this challenge and swap. Putting the posts together has been a blast and also given me the opportunity to reflect on the things that I'm most thankful for this season. I've also "met" some really nice ladies. I'm thankful for you all!