It's Day 3 of the Plenty To Be Thankful For Blog Challenge & Swap.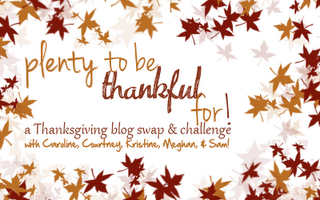 Today's topic is
My Hometown
!
I've lived in my hometown, just outside of Philadelphia for most of my life. Living in this area, there is plenty to be THANKful for like…
Sporting and Entertainment Venues
Citizens Bank Park, Lincoln Financial Field and the Wells Fargo Center are so easy to get to for games and concerts. Citizens Bank Park is also a beautiful ballpark and pretty amazing to watch a game in.
Airport
This may sound silly, but it's very nice living so close to an International Airport
Culture
Philadelphia is such a historic city. Sometimes I take for granted how many opportunities are right in my backyard. I need to start being more of a tourist in my own city
NJ & DE
I can get to either of these states in a jiffy. It's a nice convenience when looking for a change of scenery. It's also easy to get to NY & MD if I want (another thing I need to take advantage of).
City/Country Balance
There's a nice contrast between the city and suburbs. If you're looking for trendy restaurants, unique stores and eclectic bars – you have the city. If you're looking small vineyards, mom and pop shops and the great outdoors – there's the county.