It's Day 8 of the Plenty To Be Thankful For Blog Challenge & Swap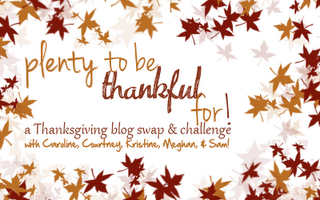 Today's topic is the special people in my life
This is an easy topic and I'm sure anyone that knows me can guess my answers. To make it a little more fun, I'm going to give you 5 reasons why I'm so THANKful for each person I'm lucky enough to have in my life.
Geof
1. He lets me warm my cold feet on his legs every night.
2. Gives the best hugs and makes me feel loved.
3. Tells me I'm beautiful at least once a day with or without makeup.
4. Gets me like no one else and always has my back.
5. Makes the best tacos of anyone I know.
Mom
1. One of the best shopping partners out there.
2. Loves Lady Gaga, just like her daughter.
3. Strong, independent and smart.
4. Doesn't care what others think (if only I could be more like that).
5. Giving. She will drop everything to help her family and friends.
Kristen
1. Can make me laugh on even the worst of days. I'm laughing in my head as I type this at some of the things she comes up with.
2. Doesn't know how to have a bad time.
3. Will listen to me be ridiculous and tell me I'm being ridiculous.
4. Her dedication. When she says she's going to do something, she does it.
5. Is as pretty as she is smart and as good a cook as she is crafty.
Colleen
1. Beautiful inside and out. I don't know anyone that doesn't like her.
2. One of the hardest working people I know and so intelligent.
3. The best listener on planet earth.
4. One of those friends you can go weeks without talking to and pick up right where you left off.
5. Has never judged me or made me feel like less of a person.
Amy & Chad
1. My favorite couple and as awesome as they come.
2. Made my past few vacations some of the best ever.
3. Their mutual love for good music.
4. They're adventurous. They will just pick up and GO!
5. The four of us get along like peas and carrots.
YOU!
1. Keep me sane some days.
2. Give me a place to ramble and leave me sweet comments that make me smile.
3. I truly love reading about your happiness and joys in life.
4. You inspire me to do more.
5. Where else would I have learned to cook new things, try a new craft and HAVE to have a new nail polish because someone blogged it?!
There you have it! I believe friendships come in quality and not quantity. I have a few special people in my life that I don't know what I'd do without. For that, I'm very thankful.