I'm participating in the Plenty To Be Thankful For Blog Challenge & Swap.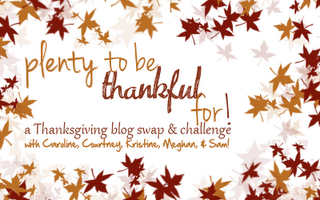 Today's topic is
Guilty Pleasures
!
Here are some that I'm Thankful for:
Reality TV
We all know that most reality shows kill brain cells, but after a long day of work it's just the mind numbing thing I need to relax. I love the Real Housewives of just about anywhere and always get hooked on The Bachelor/Bachelorette.
Magazines
Curling up with a good magazine never gets old.
Sleeping in late
Thank goodness for weekends. I love sleeping in late.
Painting my nails
It's relaxing and pleasurable at the same time.